AN INDEPENDENT COLLECTIVE
Wave Invasion is a collective of bands from The Netherlands, Belgium and Germany. We organize our collective efforts to profit from each other's experience. Our goals are to promote not only our bands but also promissing newcomers. 
The core bands are: XTORT, KORINTHIANS and ALPHAMAY.
At the moment we regularly organize online festivals. If your band wants to be be part of the next festival, please fill out the form at the end of this page.
Dear bands, dear friends! On October 31st we will celebrate Halloween with the fourth edition of the Wave Invasion Online Festival. We are now taking entries from bands that want to be part of this. Share the word and enjoy your festival!
Tonight, at 7:30p we are streaming our third online festival. This time you can enjoy 11 bands from 7 countries: Argentina, United Kingdom, Russia, Belgium, The Netherlands, Serbia and Germany. Our bands for WI:FO3 are: XTORT, KORINTHIANS, ALPHAMAY, MINUSHEART, THIS HUMAN CONDITION, HIDDEN SOULS, DOPPELGANGER, GIANT WAVES, DE DELVERS, BEATING SIGNAL, PSIHOKRATIJA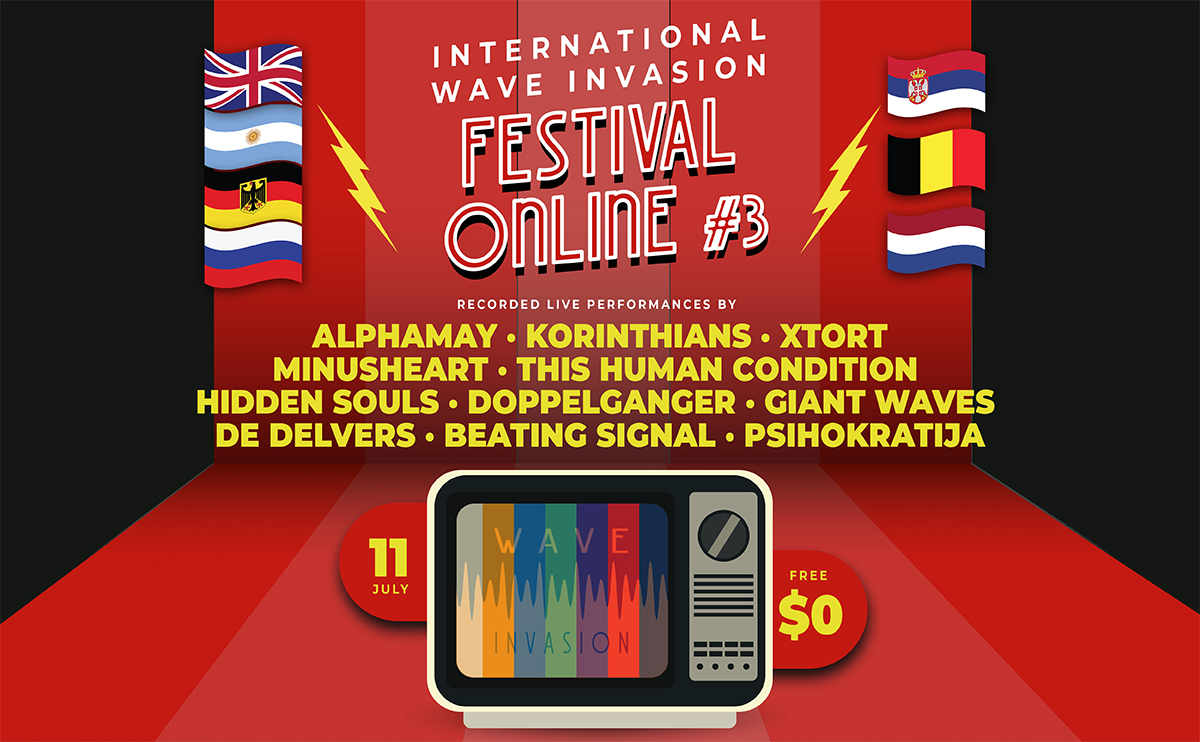 The third edition of WAVE INVASION FESTIVAL ONLINE #3 is a truly international affair. You will enjoy a brillant mix of bands hailing from: The Netherlands, Belgium, Germany, United Kingdom, Argentina, Serbia and Russia! These are the bands of the night: XTORT, KORINTHIANS, ALPHAMAY, MINUSHEART, THIS HUMAN CONDITION, HIDDEN SOULS, DOPPELGANGER, GIANT WAVES, DE DELVERS, […]
Take part in Wave Invasion Online Festival #4
Let's have a festival together!
On October 31st, the fourth edition of Wave Invasion Festival Online will take place.
To be part of this online festival with your band you can apply using this contact form. We are looking at performances only, not music videos!
Criteria for our choice of material are amongst others:
-> Good audio and video quality
-> Professional performance
-> Fitting genre (darkwave, synthpop, gothrock, industrial, minimal,… you guess you know what we are about!)
We generally reserve the right to make our choice without any justification on your part.
You are applying for WI:FO4, taking place on October 31st. If your material is chosen, it will be used for a live stream on the platforms: Facebook & YouTube. After the initial stream, it will be available on both platforms (on Wave Invasion Channel on YouTube and Wave Invasion page on Facebook) as on demand play. Your material will only be used by us in this context. You can not demand the take down / deletion of your material from the festival once the initial stream took place.
By applying to our festival, you agree to these terms.
You can enter up to two (2) songs. Please provide the date and location of the recording as well as a short band info.
If your material is chosen for the festival you will receive the info and a webflyer two weeks prior the festival.
Deadline for entry is October 18th.